CMRE is a proud Member of: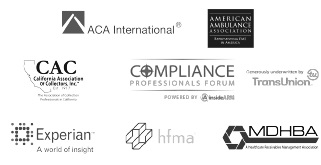 COMPLIANCE PARTNER
We know the laws surrounding healthcare receivables, and we monitor all regulatory changes to ensure our operations are always up-to-date.
We meticulously study and enforce the standards established by the Consumer Financial Protection Bureau (CFPB), protecting our clients from financial snares.
And we employ ongoing certification processes that focus on meeting and exceeding HIPAA regulations.
With these regulations as a companywide standard, we ensure that every member of our team knows how to protect your business from compliance mishaps and embodies our company values of respect and dignity. Overall, our administrative, technical, and physical safeguards are designed to cultivate optimum integrity and accountability.
CMRE CHARTER FOR COMPLIANCE FUNCTION
Our commitment to compliance is set in stone. CMRE Financial Services, Inc. (CMRE) has set forth a Charter for Compliance Function that brings our commitment to compliance to the forefront of daily operations.
Compliance Objectives
Our Charter for Compliance Function ensures that CMRE continuously achieves the following compliance objectives:
Establish and maintain effective compliance risk management and control systems, including compliance responsibilities;
Communicate those responsibilities throughout the organization;
Monitor and review operations to ensure responsibilities are carried out;
Integrate compliance with laws, regulations, and rules of conduct, as well as good business practices into every aspect of the organization.
Compliance Procedures
To meet our compliance objectives, CMRE specifically practices the following procedures:
Board & Management Oversight
Maintaining Policies & Procedures
Compliance Training
Monitoring & Corrective Action
Vendor Management
Response to Consumer Complaints
Compliance Audits/Self-Assessment
System Security & Data Integrity
Adherence to the Charter's provisions continuously supports and maintains CMRE's present and future responsibilities with regard to compliance management practices within the healthcare industry.